Five to Eleven: the discoveries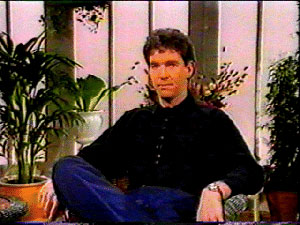 Steven Pacey presenting Five to Eleven c1988

Well, I wasn't wrong. Five to Eleven, as I remember it, was a late morning show from the late 1980s (on at, erm, five to eleven) with gentle pipe music accompanying the opening credits and some garden-type images. I just couldn't remember what it was about. Everyone I have asked has said, 'Huh??' when I have asked them if they had heard of it, and left me feeling a bit like I imagined the whole thing.
Well, God bless the power of Google:
Five to eleven was definitely on in 1988:
http://www.tvradiobits.co.uk/tellyyears/august1988.htm
It was apparently, as TV Cream describes it, a programme with B-list celebrities reading poems and short stories:
Epilogue-type effort, but with the added novelty of being broadcast in the middle of the morning. Out-of-work thespian types, usually JOSS ACKLAND, read poems and short stories in sonorous tones.
http://tv.cream.org/a-z/f/f2.htm
Joanna Lumley was guest presenter during Easter week 1987:
http://www.jlmatrix.co.uk/joanna/fivetoeleven.htm
Also Kenneth Branagh in the same year:
http://personal.nbnet.nb.ca/mosherm/tv.htm
Very Famous Person Steven Pacey (he played Del Tarrant in Blake's 7 )
http://www.tarrantnostra.com/pacey/5to11.htm
http://www.btinternet.com/~blakes.seven/main/
Beyond_B7/Pacey/body_pacey.html#tv
And folkie Jancis Harvey:
http://www.jancis-harvey.co.uk/page%202.html
And on my google-travels I also came across this:
http://www.sub-tv.co.uk/index.asp
You learn new things every day in Googleland! It makes you feel less mad and alone in the world.... sniifffffff!
P.S. Also check this out:
http://www.shifthappens.co.uk/
One of the best and funniest websites I have seen for ages.
Check out the 'Solar Virals'. Cheers Z for pointing me towards this!